Equity and Community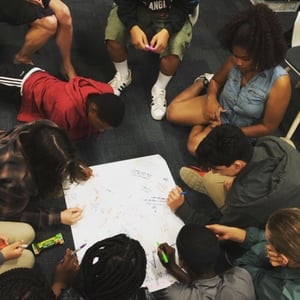 We aim to provide every student with a personalized approach that values their own interests, experiences, and backgrounds. Our learners bring curiosity, courage, dynamic personalities, productive struggle and excitement to the learning process. Each unique identity, culture, and perspective fuel our connectedness. When we listen to our learners, connect to their interests, needs, and goals, we can create collaborative experiences that ignite curiosity, develop critical thinking skills, and unleash creative power. These characteristics truly make our school a unique place to belong.
Our Community:
87% Students of color
63% Students receiving free and reduced lunch
26% LGBTQ families
11% Spanish-speaking families
75% Faculty and staff identify as people of color
25% Spanish-speaking faculty and staff
*Statistics are reflective of the community during the 2020 school year.
Our Promises:
Promise #1: We commit ourselves to an anti-bias agenda that celebrates diversity and challenges inequality and all forms of bias.
IVA High embraces fostering and sustaining a learning community that does not discriminate based on race, color, ancestry, national/ethnic origin, age, sex, sexual orientation, religion, gender identity, mental health, physical and/or learning differences, socioeconomic status, or other characteristics that construct our unique human identities. Our goal is to create a respectful and responsive community where each member as an individual is valued and supported.
Promise #2: We actively seek students and staff from diverse backgrounds.
IVA High enrolls students through a public lottery system aimed at creating a school that is reflective of our community. We understand the reflection and perseverance necessary to meet this goal. In some ways, we are already many steps forward. As recognized by Niche, we are a 2020 Best Schools award recipient for "Most Diverse Public High Schools" in Los Angeles County and the state. Similarly, 75% of our staff are persons of color.
Promise #3: We empower students as leaders to stand up for themselves and others to create a more just world.
IVA High prepares students to embrace their uniqueness and navigate the challenges that privilege some and oppress others by fostering critical thinking, creativity, and a reflective approach to personal growth. We explore the qualities of a good thinker and learner and support students to question, innovate, create, and take action to impact. By preparing students to move from inquiry to impact, they will be prepared for college acceptance and completion, internships, as well as their future career and life.
Throughout our curriculum, we integrate units, discussions, and projects to push students to explore topics like social identity, biases and discrimination, historical oppressions, and systemic injustice. We build from guiding questions like "How does my social identity impact how I see the world, and how the world sees me?" or "Who am I? Who do I want to become?". Through extended analysis of such questions, students engage with meaningful, co-curricular projects such as creating self-portraits that reflect their intersectional identity.
Promise #4: We offer a range of educational support programs and extra-curricular opportunities.
IVA High applies all legal non-discrimination standards in the administration of its educational policies, admission policies, financial aid, employment, and in all school programs and activities. Our school serves students with disabilities by providing a Free and Public Education through the least restrictive environment. We welcome all students including those with a 504 or an IEP. We support students' mental and physical well-being with four on-staff therapists, a ratio 20 times the California average of school providing counselors. We also integrate weekly advisories where students are supported in small groups, and offer many times the extra-curricular options per student than surrounding schools, including sports and student initiated clubs.
I belong, You belong, We belong
IVA High welcomes any incoming 9th, 10th, 11th, and 12th grade students to apply. We believe in an equitable learning opportunity for all students; therefore, we do not require a minimum GPA or High School Index. We are a true high school of choice. Learn more about our program by visiting our website at www.academylongbeach.org, follow AcademyLBHS on Instagram or Facebook, or give us a call to meet with members of our school community.
Best School for Diversity 2020 & 2021, Awarded by Niche
IVA High Statements to the Community.
March 30, 2021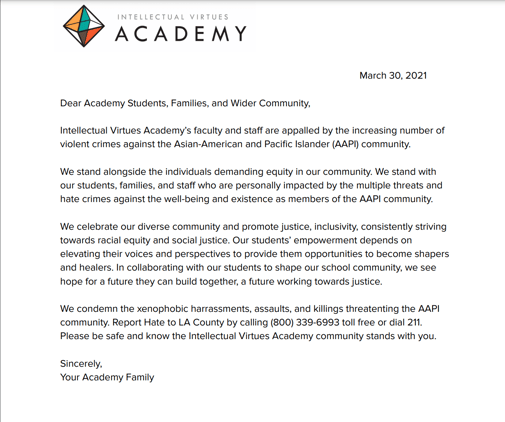 January 8, 2021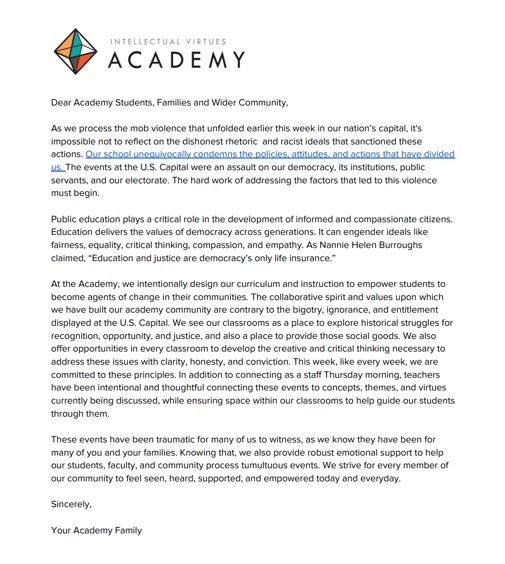 June 4, 2020: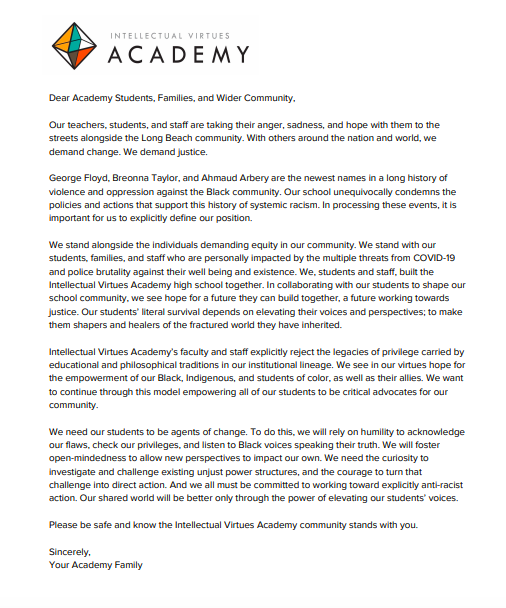 Board of Directors Statement to the Community. June 10, 2020: