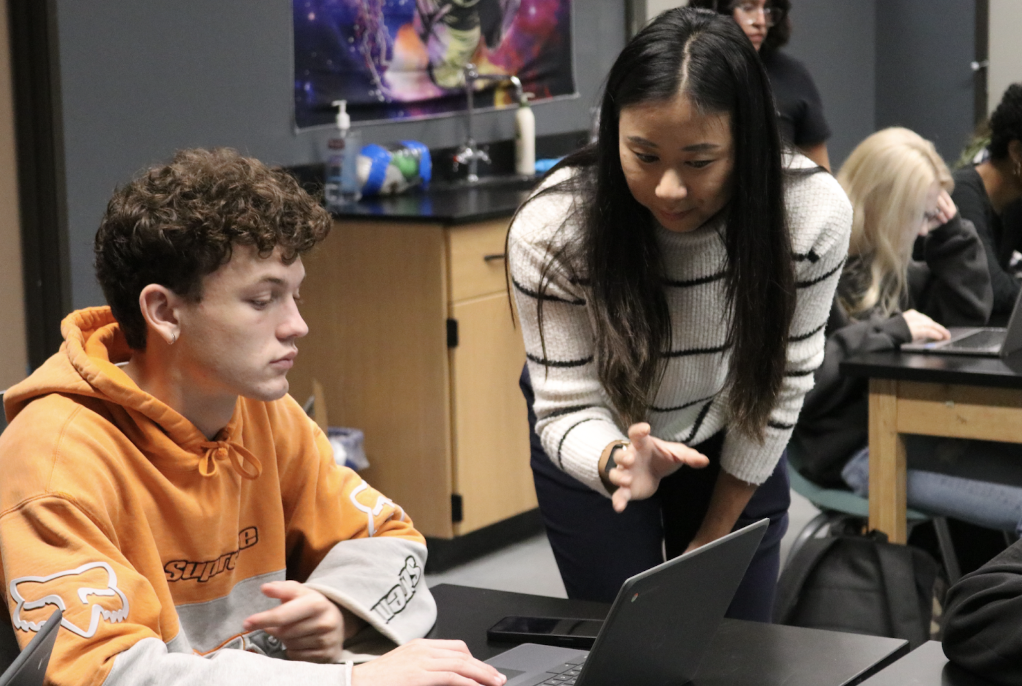 Dual Enrollment Partnership with IVA High & Long Beach Community College (LBCC)
IVA High
Oct 6, 2023 9:30:52 AM
We are proud to offer dual enrollment with Long Beach City College (LBCC) as part of the AXS Advanced and Accelerated Studies program at IVA High. For those looking to get a jumpstart on college credits or reduce the burden of high tuition costs, dual enrollment is an excellent option for hard working students at our tuition-free high school.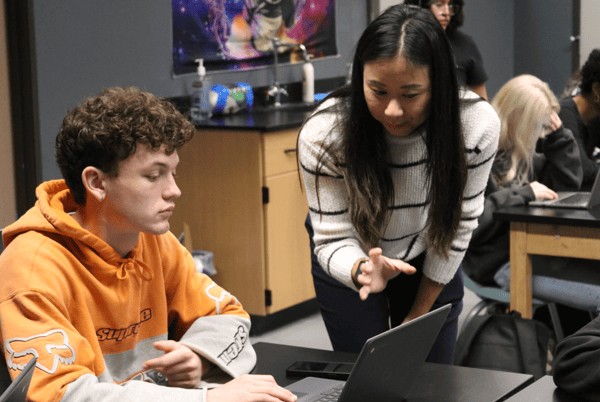 Dual enrollment students earn high school and college credit at the same time. The program allows students to begin building their college transcript while completing their high school diploma. Courses offered are eligible to transfer to UCs and CSUs. Most importantly, the program is accessible, customizable, and cost-free.
IVA High initiated a Dual Enrollment partnership with LBCC in 2020. "As a small school, it is important for us to provide enrichment courses for students beyond our high school course offerings. To meet the varied needs of our student body, college courses provide extended opportunities for students to fulfill high school requirements, begin their college path, and/or explore personalized career and academic interests." Makenna Briceno, School Counselor.
"We named our Advanced and Accelerated Program IVA AXS to emphasize the equitable approach that reduces barriers for our students to have access to an advanced, high quality education. As an inclusive school, 10th - 12th grade students are eligible to take college courses, as long as they express a motivation to apply. When people ask me 'how does IVA High prepare students for college?' My answer is, 'we enroll them in college courses!'" Summer Sanders, Head of School
In 2023, we expanded our partnership by offering college courses on campus, becoming one of only two Long Beach high schools to host LBCC professors during the school day. Our partnership expansion builds on IVA High's past success of having the #1 course completion rate of any other local school.
Dual enrollment students take college courses at IVA High that are taught by visiting LBCC professors. These courses are also supported by a high school teacher. Students are able to learn the ins and outs of being a college student in an environment in which they are already connected and supported. For on campus college courses, IVA High also covers the cost of the textbooks and materials.
AXS Dual Enrollment students are also considered LBCC students and have access to additional resources at LBCC, including tutoring support, student events, and intramural sports.
"When people ask, 'how does IVA High prepare students for college?' My answer is, 'we enroll them in college courses!'"

-Summer Sanders, Head of School
How Do I Enroll?
In order to qualify for the Dual Enrollment Program, students must meet the following requirements:
Academic proficiency
Meets behavioral expectations
Consistent attendance
Recommendation by IVA High's School Counselor
Acceptance into the Dual Enrollment Program reflects a student's hard work and commitment to academic success.
What Courses are Offered?
Course offerings vary each year, but our counselor will work with you to determine the best fit of courses for your goals and scheduling needs. Here's a sampling of what is offered on campus for the 2023-24 school year and the course equivalent.
Learning and Academic Strategies (3 college units = 10 high school credits)
Orientation for College Success (1 college unit = 3.3 high school credits)
Career Exploration (1 college unit = 3.3 high school credits)
Introduction to Acting (3 college units = 10 high school credits)
Theater Forum (1.5 college units = 5 high school credits)
This year, some 10th-12th grade students will earn up to 9.5 college credits! Any student with a minimum of 6 college units qualifies for a paid internship. All courses are offered on Tuesdays and Thursdays. The IVA High School support teacher leads the class on the other days the course is scheduled.
Students have also taken advantage of courses that are offered on the LBCC campus or online including:
Elementary French
Elementary Spanish
Intro to Computer Aided Design (CAD)
College Algebra
Chemistry
Intro to Welding
Women in America
Film Studies
Intro to Psychology
Criminal Law
Intro to Philosophy
Weightlifting
Business Management
We invite you to take advantage of this incredible opportunity to get ahead without undue financial or time commitments. If you are interested in enrolling at IVA High and the Dual Enrollment Program, there is still time to get started this year. Visit our enrollment page to get started or contact us with any questions.
About IVA High
IVA High is a fully accredited, tuition-free public high school in Long Beach, California with a mission to empower students to think well: creatively, critically, and with a capacity for self-growth. Our learner-centered approach puts students in charge of their education, while dual enrollment and paid internships transform learning into action. Students come for college prep, STEAM and limitless options for their future; they stay for smaller, safer learning in a vibrant, caring community. Join us–we're building curious minds & empowered communities.